The trends for the 2021 travel season are pointing conclusively to one outcome: The rejuvenated rise of the classic British staycation.
It's expected that in 2021 the British seaside resorts will be bustling, with some campsites in popular locations like Dorset, Devon and Cornwall reporting that they're 300% up on bookings year on year and have had to turn away hundreds of customers due to being fully booked.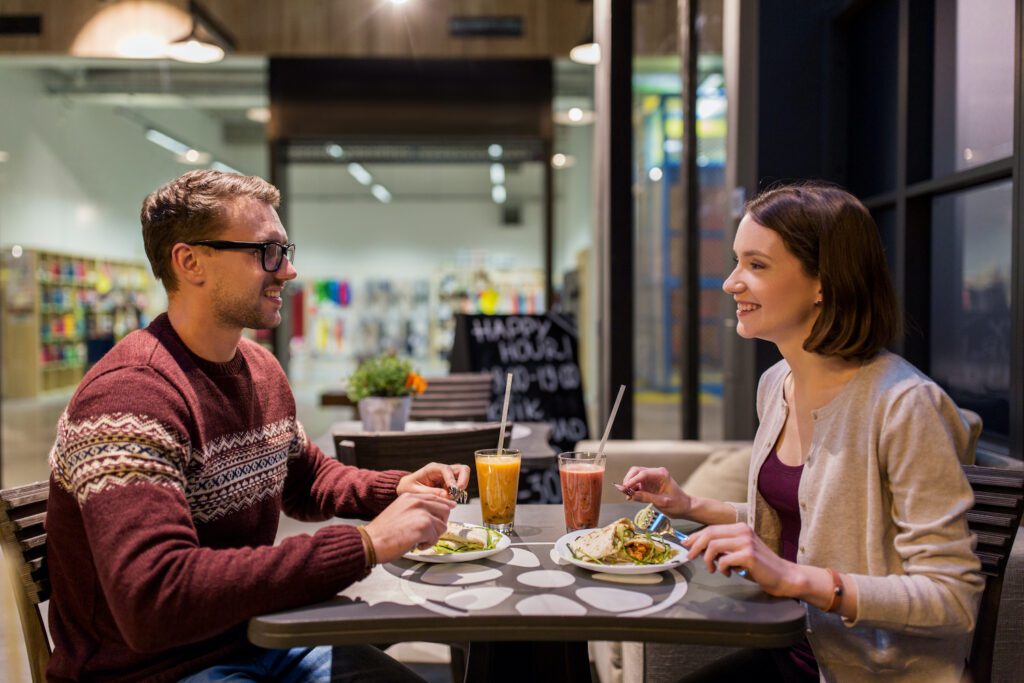 Amongst all the surge in staycation bookings, which would be the best vegan staycation for 2021?
The Goodness Project set out on a research journey to compile the top three cities and towns in the best beach, city and countryside locations. Using data and reviews from TripAdvisor, looking into how many restaurants had vegan options, and how many of these had 5-star reviews.
The final list of our standout restaurants, give an overview of what tourists can expect to find, and includes completely vegan accommodation recommendations so that your vegan staycation can be 100% compassionate and conscious the entire way through.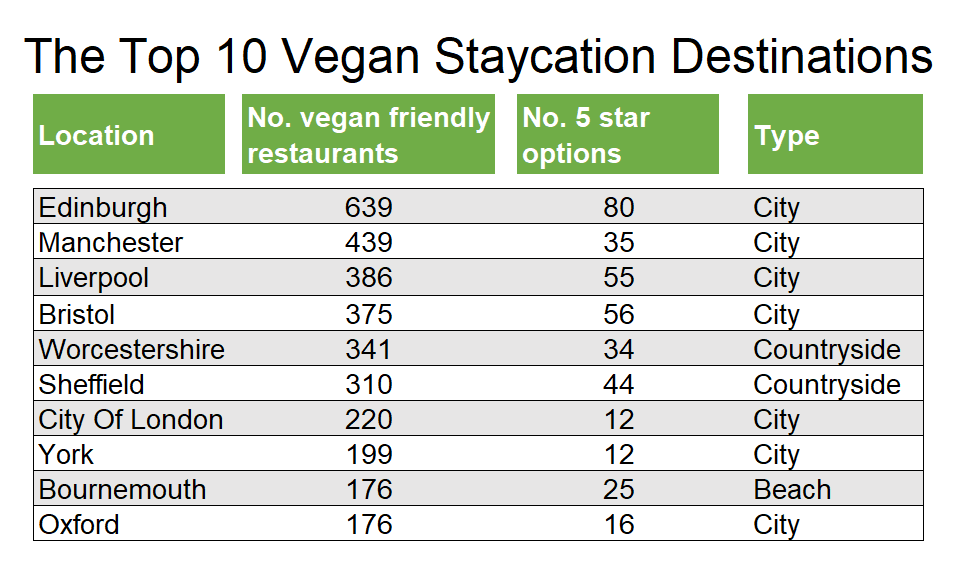 Edinburgh tops the list as the most vegan-friendly staycation destination in the UK. With over 350 vegan options available throughout this historic city, you're not going to lack choice. Added to that Edinburgh has the most 5-star rated restaurants that offer vegan-friendly food, so you know it's going to be good!
Now, we'll take a look at the specific staycation types broken down by Beach, City and Countryside and picking out our favourite spots, complete with restaurant and accommodation recommendations.
Beaches
If you're looking for a nice vegan beach break Bournemouth will be your best option with over 170 vegan options, 25 of these from 5 star restaurants.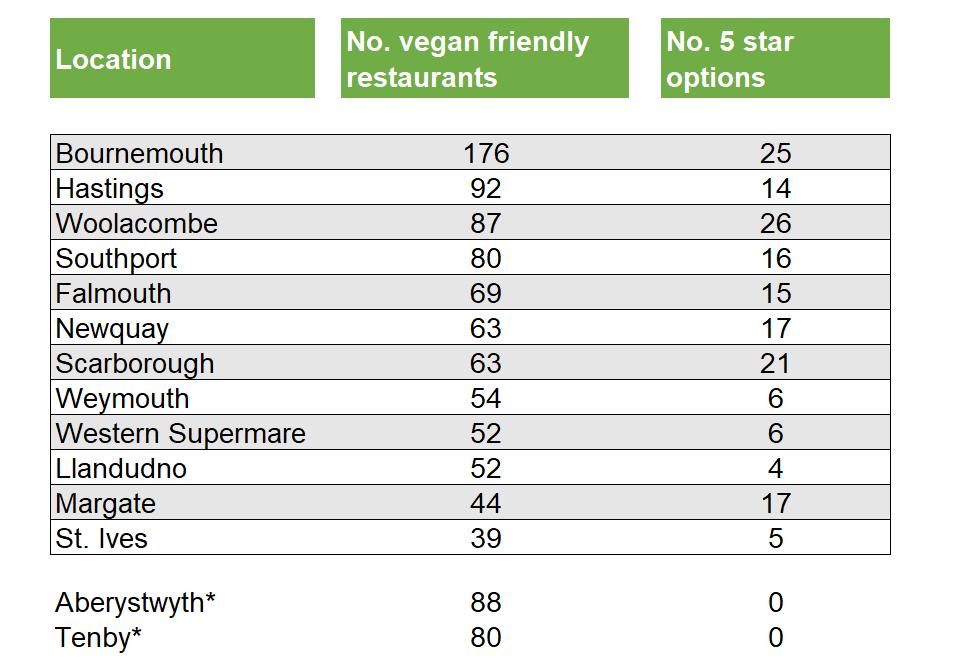 Whilst Tenby and Aberystwyth did have a good level of vegan options, none of the available places was rated as 5 stars at the time of writing so we didn't include them in our top spots.
Our top picks
SCARBOROUGH
Scarborough is a quintessential British seaside town. The classic seaside getaway boasts two picturesque beaches, a rich fossil-finding history, the ruins of a 12th century English Heritage Castle as well as museums, theatres and a new diversity of dining experiences. 

Long gone are the days of only having non vegan-friendly fish and chip options along the pier! Nowadays Scarborough offers a variety of vegan and vegetarian options. We counted a whopping 63 restaurants offering vegan or vegetarian dishes, with 33% of them coming in at 5*. 

Accommodation
Peasholm Park Vegan Bed & Breakfast 
Peasholm Park is a 100% fully vegan B&B, and has been since March 2019. Peasholm Park offers guests an entirely compassionate and cruelty free break. The B&B uses vegan toiletries in all bedrooms, fairtrade and vegan dining options including fresh soya milk in its food, as well as providing a vegan bar and a free vegan-friendly eating out guide for its guests. 

It may be the only fully vegan option in Scarborough, but it's already situated itself far ahead of the competition with 77 reviews, all coming in at 5* for cleanliness, experience and value.
Restaurants
Eat Me Cafe & Social
With reviews like, "Vegetarian and Vegan Heaven!" It's hard to see how you could go wrong with Eat Me Cafe and Social. More than just a cafe, this restaurant is tucked in one of Scarborough's backstreets and is situated behind the world renowned Stephen Joseph Theatre. 

As well as catering specifically for vegan diets, Eat Me Cafe & Social also offer dairy-free or vegan swaps which are available on request and include things like soya milk or vegan butter and cheese alternatives, as well as gluten-free bread for free from diets. Vegans can definitely find a piece of what they fancy here.

Other restaurants to try include:
Bloom, a cafe that offers a variety of vegan sweet treats including bagels and cakes
Love Brew Cafe, a cafe serving homemade plant-based dishes like breakfasts, sandwiches and even loaded pizza rolls
Koda Coffee, a coffee bar which offers a unique vegan food selection ranging from sandwiches to bao buns to acai and dragon fruit bowls.
ST IVES
Cornwall is a well loved seaside destination, and St Ives is one of the jewels in its crown. Situated on the North coast, St Ives is perched on a craggy peninsula adorned with sandy beaches, a recognisable sweeping harbour and cobblestone lined streets.

There's something for everyone in St Ives, with four main beaches (voted the best in Cornwall), watersports activities, cultural museums and gardens and even trips to an island home to a colony of friendly grey seals. 

But it's not just activities wise where St Ives is diverse. St Ives now boasts its very own 'Vegan St Ives Food Tour' where guests can sample meals, cakes and ice creams from the very best vegan and vegetarian eateries dotted throughout the town – and that's quite a few. Our research found 39 restaurants offering vegan and vegetarian dining options, with 12% of them coming in at 5*.

Accommodation
Boswednack Manor B&B
Boswednack Manor is a rustic vegetarian guesthouse that dates back to the Edwardian times. Set in three acres of organic grounds, you can find a haven for wildlife here and a home for over 200 species of native plants.

The manor caters specifically for vegetarians and vegans and other special diets can also be arranged prior to the visit, and has a speciality vegetarian breakfast as well as priding itself on being organic and puritanical.
Restaurants
The Bean Inn Vegetarian Restaurant
Ranked #1 of 9 restaurants in Carbis Bay, St Ives, vegetarians and vegans alike have been spoilt with The Bean Inn Vegetarian Restaurant. Reviews praise its "soulful, healthy and homemade vegan food" and it caters for vegetarian, vegan and gluten free diets.
Outside of its in-house menu it also serves up Meal Kits which can be created at home and vary from Asian to Mediterranean cuisine. And whether you're picking up a takeaway or taking a meal kit home, The Bean Inn uses 100% Vegware plant based compostable packaging too.
Other restaurants to try include:
Blas Burgerworks, offering gourmet vegan burgers
Porthminster Kitchen, whose renowned chefs will cater any of their dishes to meat or dairy free options
The Market Place Tea Rooms, which offers an entirely vegan Cornish cream-tea experience
WEYMOUTH
Weymouth Beach is a consistent Blue Flag winner, and holds an accolade as one of the top ten beach destinations in Europe.
ith 8 golden sand beaches to boast of, as well as crystal clear shallow waters, watersports events and a dazzling harbourside, Weymouth is a fantastic staycation capable of taking on any Mediterranean splendour.
t's also a perfect destination for vegan and vegetarian holiday makers because it now houses its very own 100% vegan B&B alongside a catalogue of 54 vegan friendly restaurants! 

Accommodation
Weymouth Vegan B&B
Weymouth Vegan B&B is Weymouth's sole accommodation dedicated to being 100% vegan. Brand new refurbished rooms feature vegan and cruelty free toiletries and accessories, whilst all food options available at the B&B are entirely vegan and, according to reviews, are impressing even non-vegans staying there! 

Weymouth Vegan B&B is located only a ten minute walk from the beach and a fifteen minute walk from the town centre, which places it in a prime location. The B&B also provides information on the best vegan restaurants and cafes to visit in the area and will provide you with things to do if you need help.

Hailed as a hidden gem with meticulous attention to detail, the Weymouth Vegan B&B is definitely the perfect base for any vegan or vegetarian visitor. 

Restaurants
The HiVe Cafe
The HiVe Cafe has quite the reputation: It's voted as the second best restaurant in Weymouth out of a staggering 159. Located less than a mile from Weymouth Beach, The HiVe Cafe has glowering reviews that praise its homemade vegan and free from menu options.

Whether you're looking for a main meal like a vegetarian burrito, a light lunch like the halloumi salad or a sweet treat like a dairy-free slice of cake, The HiVe Cafe supplies indulgent and healthy dishes that are fitting for any compassionate and cruelty free diet. 

 Other restaurants to try include:
The Secret Garden, a restaurant which offers vegan and vegetarian meals alongside dairy free cakes and waffles
Nautico Lounge, a bar which specialises in vegan falafel and halloumi dishes
Loco Lobo, a Mexican restaurant which supplies an array of vegan burritos and fajitas
Cities
So we already know Edinburgh is your best bet, but what other cities could be a good choice?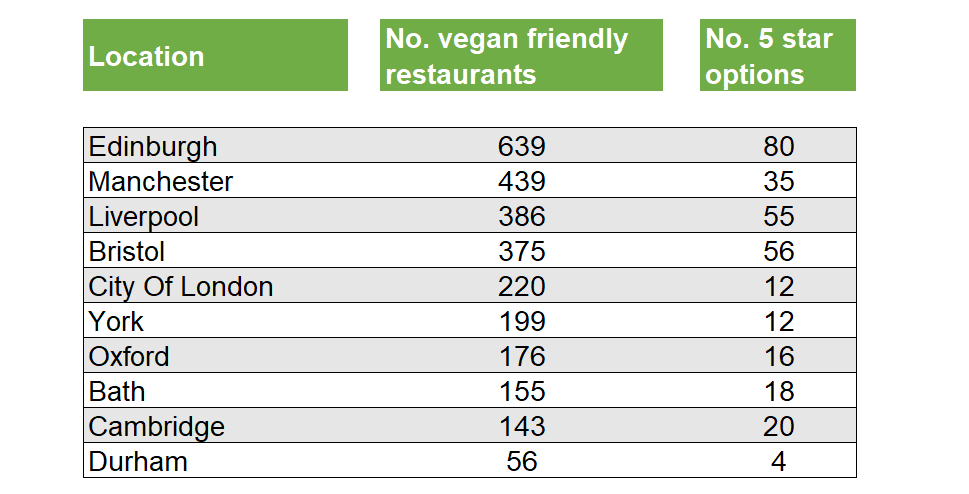 Our top picks
EDINBURGH
Edinburgh is a city steeped in history and surrounded by beautiful, quaint architecture. Whether you choose to lose yourself in the gothic, cobblestoned side streets of Old Town, or wander wide eyed through the Georgian influenced New Town, Edinburgh is bound to provide an unforgettable break.

Once you've finished visiting Edinburgh Castle, having a famous scotch whiskey tour, or admiring the conservation on show at Edinburgh Castle, vegan and vegetarian travellers can finish their day by sampling any one of 651 restaurants catering for vegan or vegetarian diets. Talk about choice!
Accommodation
Claymore Vegetarian Guest House
Claymore Vegetarian Guest House is situated in a Victorian terraced house that blends modern design alongside some of the original period features of the time. Claymore Vegetarian Guest House offers vegan and vegetarian dietary options which are homemade and use organic ingredients, as well as providing cruelty-free toiletry products in all of its rooms. 

The Guest House is centrally located to all of Edinburgh's attractions, is only a 15 minute walk from Princes Street, one of the major thoroughfares of the city, and has a bus stop right outside its door.

Hailed as a "hidden gem" by over 116 5* reviewers, it's the perfect vegan base situated right in the heart of the city.

Restaurants
The Painted Rooster
The Painted Rooster looks small on first appearance but soon packs a hearty punch once you step across the threshold. This cosy restaurant is situated underground, making it a truly secret hidey-hole offering big portions alongside big variations.

Whilst not solely vegan, The Painted Rooster offers dairy and gluten free adaptations to items on its menu, and specifically serves vegan breakfasts as well as other dedicated vegan dishes to accommodate for everyone. It comes out on top as the vegan favourite in Edinburgh, so we recommend working up an appetite at any one of Edinburgh's attractions before giving it a try!

Other restaurants to try include:
The Kcal Kitchen, a restaurant offering classic dishes with none of the guilt and plentiful vegan and vegetarian options
David Bann, a restaurant that specifically serves vegetarian and vegan dishes from a variety of cultures and has been hailed as "converting carnivores"!
Harmonium Bar and Kitchen, a bar/restaurant serving a vegan twist on popular dishes like mac and cheese, pizzas and cultural dishes from around the world
HAMMERSMITH, LONDON
Perhaps overlooked compared to its cosmopolitan cousin, Camden, Hammersmith is proving that even the busiest London boroughs can provide a great staycation for vegan and vegetarian visitors. 

Situated directly on the riverside, holidaymakers can enjoy an array of eclectic live theatre productions at the Lyric theatre or head to the Apollo for an unforgettable night. Hammersmith may have its fair share of gastropubs and drinking dens, but it's also home to over 54 restaurants offering vegan and vegetarian options and a hidden gem of an eco-friendly accommodation.
Accommodation
Temple Lodge Club
The Temple Lodge Club B&B is praised for providing a "country house hotel" atmosphere in the middle of busy Hammersmith. Seen as a unique oasis of tranquility for city-break travellers, the Temple Lodge Club has its own dedicated vegetarian restaurant attached to the building and has an ethos of only using eco-friendly products.

Guests can enjoy its renowned organic breakfasts which also offer dairy and gluten free alternatives and fall asleep in beds draped in sustainable organic linen sheets. 

Situated directly in the centre of Hammersmith and a five minute walk from Hammersmith tube station, this B&B is one that vegan and vegetarian travellers will want to keep their city secret.

Restaurants
222 Vegan Cuisine
The clue is in the name with 222 Vegan Cuisine. This restaurant serves up nothing but healthy and tasty vegan dishes, including some highly praised and decadent vegan desserts.

All the dishes are made in-house and hand prepared by the Head Chef and Owner, Ben Asamani and use natural ingredients and cooking techniques that preserve taste and nutritional value. 222 Vegan Cuisine are also able to cater for free from dietary restrictions, and pride themselves on being low-fat, low-salt and entirely organic.
Other restaurants to try include:
The Gate, a restaurant chain whose ethos is to serve inspirational and multicultural vegan food
Bvrger, a 100% vegan gourmet burger restaurant who serve up a whole host of different style burgers
Chez Abir Restaurant, one of the only genuine Lebanese restaurants in London who offer vegan Lebanese dishes like hummus, halloumi and falafel
YORK
York is a city drenched in history. Outside of its architectural landmark and famous Cathedral it's also home to the commonly photographed street, The Shambles, whose cobblestoned streets and overhanging Tudor houses transport visitors straight back to the fourteenth century. 

Whichever way you turn York offers quaint throwbacks to simpler times, but it's also a city that has modernised and evolved, taking the crown for the greenest city in the UK in 2020 and making it a fantastic destination for vegan and vegetarian travellers.
Accommodation
Cornmill Lodge
Hailed as a "wonderful place to stay if you're a vegan or vegetarian visiting York" Cornmill Lodge prides itself on providing a comfortable stay that is entirely environmentally friendly.
Cornmill Lodge offers guests an entirely vegetarian or vegan organic breakfast, as well as comfortable rooms with vegan toiletries and information on the best vegan and vegetarian restaurants around the city. 

The B&B is situated a fifteen minute scenic walk from the city centre or there's a bus stop right outside the door, so vegan and vegetarian travellers are best placed using Cornmill Lodge as a base.
Restaurants
Source
Source is a restaurant that serves predominantly vegan dishes, but does so with the hidden motivation to impress even the strictest of non-vegans! This restaurant does come with a warning though: Make sure you bring your appetite.

Source offers such hearty vegan and vegetarian dishes that quite often patrons are left disappointed when they can't find room for dessert! Praised for their wide array of options to suit all dietary needs and all members of the family, it's no wonder that Source is referred to as the "Vegan heaven" of York.

Other restaurants to try include:
Partisan, a cafe offering light vegan, vegetarian and gluten free options including breakfast, light bites and sweet treats
Osbornes at 68, a cafe who are praised for their offering of vegan, vegetarian and gluten free cakes and light bites
Las Iguanas, a Mexican/Brazilian restaurant who serve vegan alternatives of classic Southern American dishes
Countryside Retreats
If you're looking for a countryside retreat Worcestershire is your best option, closely followed by Sheffield. We've included some real countryside staycations, these have fewer vegan options as you might imagine though.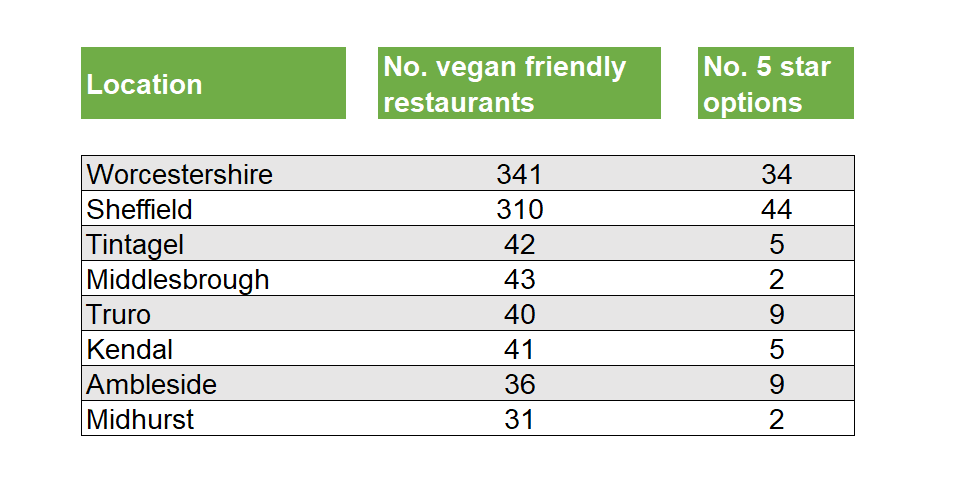 Our top picks
AMBLESIDE
Ambleside is a small town tucked away in the beautiful Lake District. It's a favourite place to stay for climbers and walkers because of the ability to explore the best the Lake District has to offer.

In Ambleside, you can use the Windermere Lake Ferry terminal to take you to external destinations like Bowness or Brockhole, the Lake District National Park Visitor Centre, or you can visit Ambleside's 70 foot waterfall and Stagshaw gardens. 

Though it may be small, Ambleside offers vegan and vegetarian visitors a specialist B&B as well as 37 restaurants – some that have won awards – that offer vegan and vegetarian dishes to enjoy.
Accommodation
Yewfield Vegetarian Guest House
Yewfield Vegetarian Guest House is a vegetarian B&B catering to both vegetarians and vegans. Set in 80 acres of private grounds, the B&B extends onto Lake District beauty spot Tarn Hows, and has previously won a 5* award from the Lake Districts own tourist board.

Guests have praised their breakfast options which are entirely vegan or vegetarian and feature fresh produce. Yewfield also owns two highly praised vegan restaurants, and offers guests the opportunity to enjoy meals there at a discounted rate.
Situated a 15 minute drive from Ambleside and with towns Hawkshead, Coniston and Keswick nearby, Yewfield Vegetarian Guest House is the perfect central location for vegan and vegetarian travellers.

Restaurants
Zeffirellis
Zeffirellis is Yewfield Vegetarian Guest House B&B's own vegetarian pizza/pasta restaurant, and it's scooped a handful of awards since its opening.

Offering vegan and vegetarian classics on dishes such as Macaroni and Cheese, a selection of delicious pizzas and even vegetarian chilli, visitors often say their only fault is that they can't stop coming back!

Other restaurants to try include:
Gandhi's Cafe, a cafe serving vegan and vegetarian breakfasts, sweet treats and even full meals like vegetarian kebabs and Thai
Fellinis, a 'vegeterranean' restaurant that serves mediterranean food but vegan or vegetarian style
Drunken Duck Inn, a classic pub that's featured in the Michelin guide, offering specialist vegan and vegetarian pub grub
SHEFFIELD
Nestled in the rolling hills of South Yorkshire, Sheffield is a city surrounded by green countryside, huge botanical gardens, and the rocky ridges of the Peak District National Park.

It's the surrounding countryside that provides Sheffield with the opportunity to offer a range of different outdoor experiences, including rock climbing, mountain biking, paddle boarding, or just good old fashioned ambling through the countryside.
After a full day, vegan and vegetarian tourists can relax safe in the knowledge that there are 310 restaurants offering vegan and vegetarian dining options, as well as an award winning vegan guesthouse made to relax in.
Accommodation
Stonecroft Country Guesthouse
Stonecroft Country Guesthouse is a plant based B&B covered in accolades. In 2015 and 2018 it was crowned the winner in the Free From Awards breakfast category, and it's been awarded Gluten Free Accreditation from Coeliac UK in both 2016 and 2017.

Set in a gorgeous period country home and situated in the main hamlet of the Edale Valley in the heart of the Peak District National Park, Stonecroft Country Guesthouse is by nature, vegan, vegetarian and free-from. Its host, Julia Reid is an award winning chef and also a vegan, so you're best positioned to enjoy her acclaimed cooking, which takes place on the aga in an entirely gluten and wheat free kitchen.

If you're heading out, the Guesthouse is happy to provide specially designed packed lunches so that you have freedom to stop and eat wherever you are. Be aware that Edale is a 30 minute drive or train journey from the centre of Sheffield, but we think this one will be worth the journey.
Restaurants
Make No Bones
Make No Bones is an entirely vegan restaurant which is situated inside a fully vegan bar, The Old Workshop, and it promises to offer the best of vegan comfort food.

Visitors regularly compliment how hearty and flavoursome the dishes are, and there are generous portions on offer to fill up those who have burnt off the calories out on the trails. Rated the 12th best restaurant in the entirety of Sheffield, this is one comfort stop worth making.
Other restaurants to try include:
The Rhubarb Shed, a cafe that are renowned for their indulgent and entirely free from desserts
Koko Restaurant, a Japanese restaurant that mix textures, colours and flavour combinations to provide a truly unique vegan experience
Grazie, an Italian restaurant that provide a plethora of vegetarian and vegan-friendly pasta and pizza options
TINTAGEL
Tintagel is a Cornish town steeped in myth and legend. Located on Cornwall's rugged north coast, this beautiful scenic retreat offers something for everyone.

Whether you want to feel like King Arthur as you climb Tintagel Castle and soak in the incredible views over the coastline, take in the breathtaking waterfall at St Nectan's Glen or be brave enough to explore Merlin's cave when the tide is out, Tintagel is a small town that packs in a lot of unforgettable experiences. 

It's a perfect location for vegan and vegetarian travellers too, as over half of the town's entire restaurants serve vegan or vegetarian options, and there's a renowned entirely vegan guesthouse waiting to relax weary travellers.
Accommodation
Michael House
Michael House is an entirely vegan bed and breakfast offering delicious vegan food in a breathtaking setting. The house looks towards the sea over rolling green fields, and it's 15 minutes away from Trebarwith Strand with its stunning beach.

As well as providing an entirely vegan breakfast, the guesthouse is unique in that it will serve vegan meals in the evening to residents if requested. These all use organic and natural ingredients, and free from dietary restrictions can be catered to, too. 

The guesthouse is a mile from Tintagel and situated on a coastal footpath, whilst Bodmin Moor is a quick half an hours drive away, making it a perfect base location for all your Tintagel exploration.
Restaurants
Vega
Vega is a 100% vegan and vegetarian restaurant that's capable of tempting even non-vegans into its doors with its flavoursome dishes! Reviews praise its desserts, and call its food the "best ever tasted", so it's worth making this a must-stop destination on your holiday.

Vega only uses completely fresh and organic ingredients in their dishes, and provides plentiful portions for reasonable prices. There are even vegan takeaway options available if you want to take some food down to the beach and watch the sunset over the craggy hillside scenery.
Other restaurants to try include:
Primrose Cottage Cafe, a cafe offering gluten-free and vegan options like light bites and acclaimed scones and cakes
Bettle and Chisel Inn, a restaurant that serves vegan and vegetarian dishes as well as providing free from alternatives if requested
Chapel Cafe, a cafe that specialises in vegan and gluten-free light lunch bites and snacks
We hope wherever you choose to staycation this year your trip is a fantastic and memorable one.
If you need roadtrip, lunch, or on-the-go snacks for when you're out and about this summer, don't hesitate to browse the range of vegan, vegetarian and free from goodies including vegan crisps, chocolate and even vegan hampers from The Goodness Project – a perfect accompaniment for your trip away. Shop now.