Brewer AB InBev, approached YourStudio with the brief to re-shape the Future of the Pub; post-pandemic, re-connecting with consumers on a direct, more engaged level. The setting, The Monarch pub, an iconic venue in Camden known for its line-up of now-legendary indie artists. It has now been reimagined as Monarchy, an innovation platform where friends want to meet. 
Monarchy aims to drive loyalty by bringing people and communities together in providing a platform for connection and amplifying the experiences of music, sport, culture and community. YourStudio positioned Monarchy as more than a venue; it's your local, it's your front row, it's your afters, it's your studio. It's a physical place and online space where you can meet, eat, watch, learn, listen and explore – in your style, on your terms.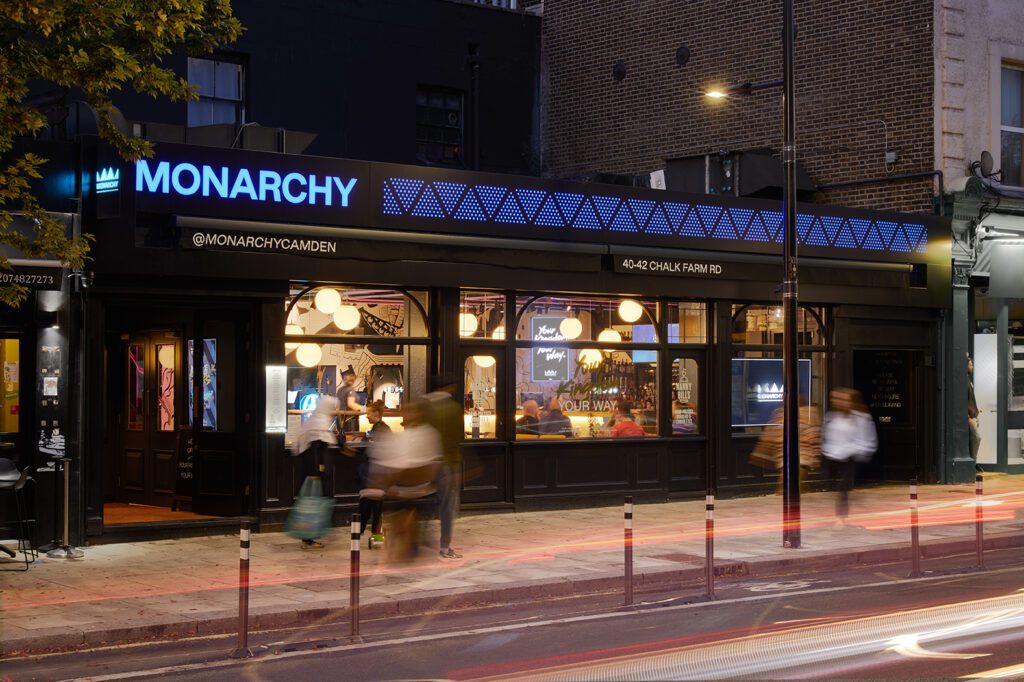 YourStudio developed the brand into an engaging experience, defining both the digital strategy and environment design. Designed to connect with a generation of live music, sport and culture fans, YourStudio looked at how they express their support and crave shared moments that form life-long memories. They created the naming, proposition, brand identity across physical and digital touchpoints.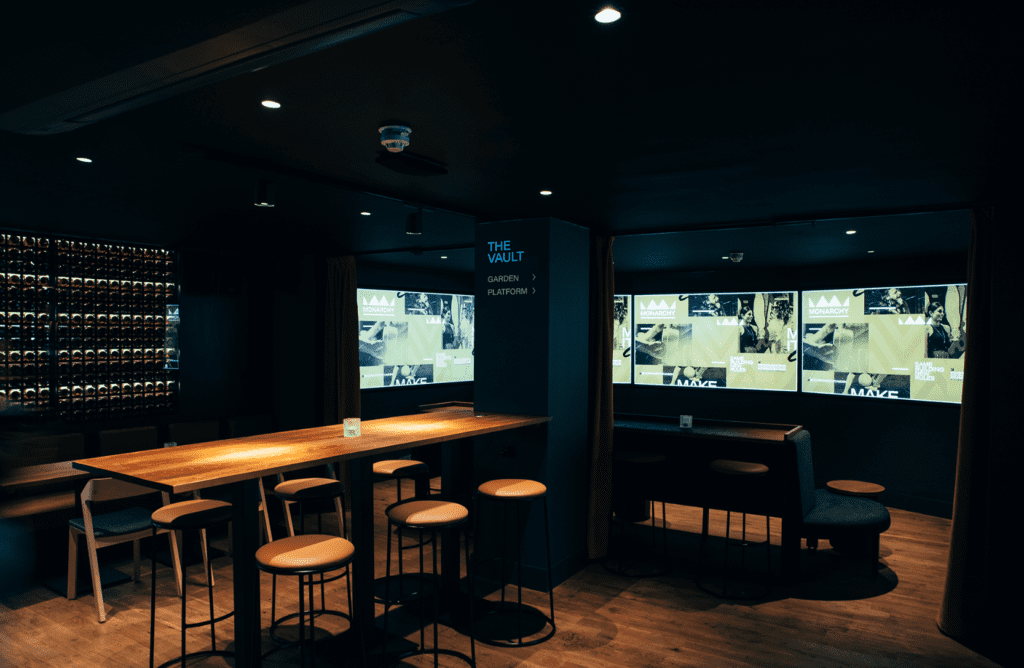 Monarchy is a physical venue that is embedded with digital touchpoint for a truly omni-channel experience. The new innovations being launched here include self-serve taps (PerfectDraft taps + kegs), an online ordering system, animated digital signage for the main bars beer taps, programmable LED lighting, screening areas for special events. The space is now a flexible, tech-enabled event and broadcast space that adapts for the calendar of sport, music and brand takeovers.
The design takes inspiration from breweries; it is industrial but refined, cool but authentic. The designers respected the existing site and re-used structures and restored the original flooring, paying homage to the location's rich history.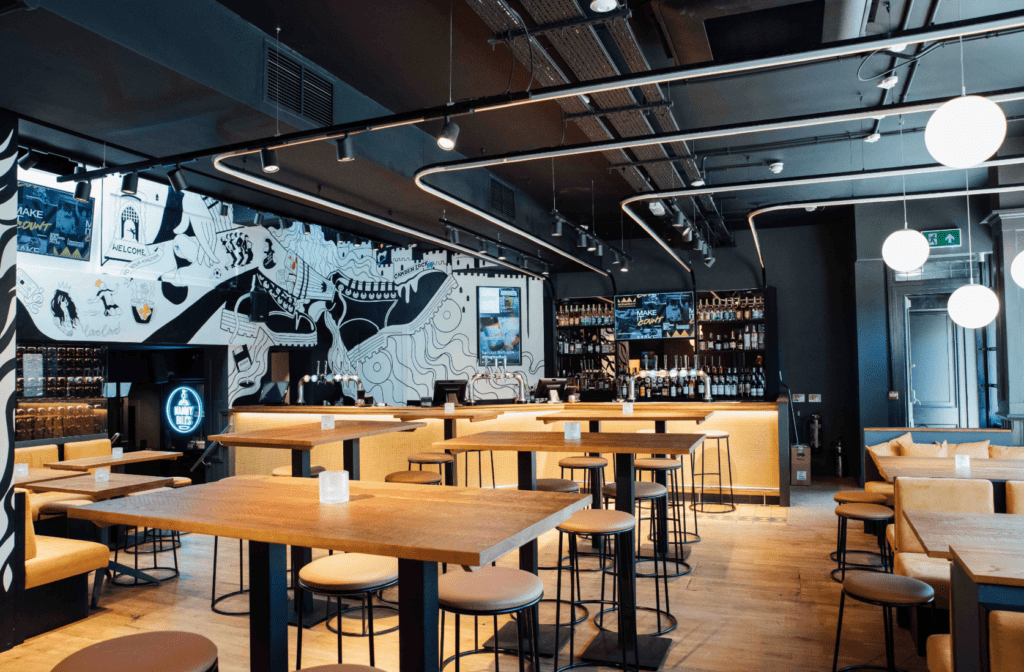 As you approach Monarchy, you'll notice the digital signage which evolves day to night. The palette inside has contrasting textures and embraces patterns with statement messaging and signage creating strong focal points and perfect instagrammable moments. Artwork is displayed alongside arrangements of wheat and barley. It's designed to feel like the Monarchy has always been there; it feels modern and approachable.
Famed local London illustrator Kate Philipson, designed and painted a mural depicting the Monarchy Manifesto featuring a woman tattooed with memories of gigs, games and sport events; capturing the spirit of Monarchy. She features against a backdrop of Camden Locks entangled in her flowing hair.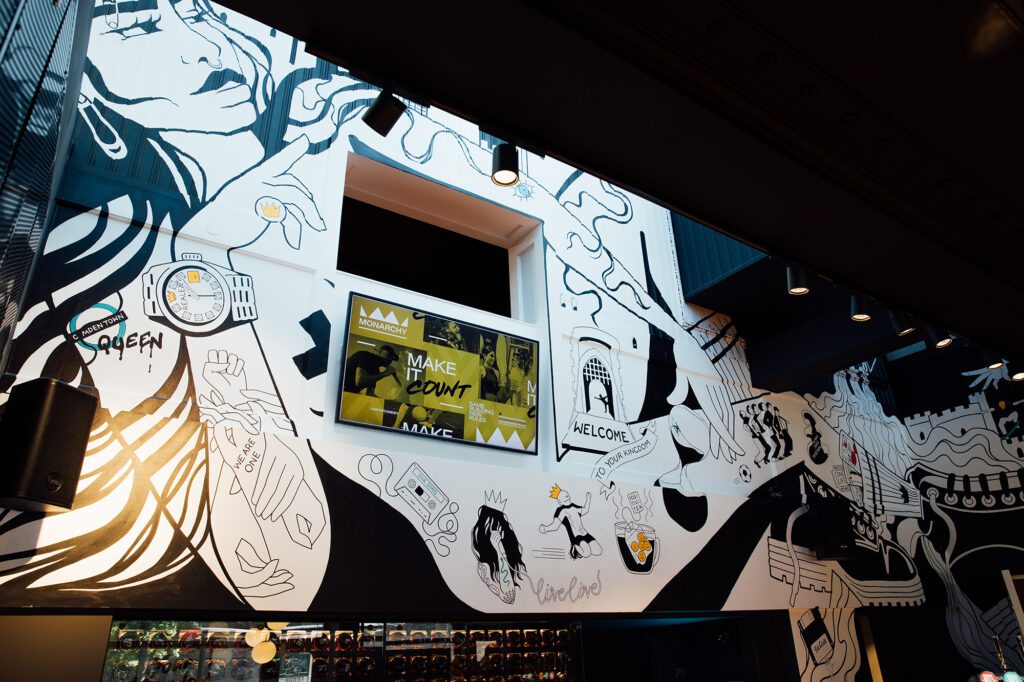 Locals can truly have a say on how they want this venue to evolve overtime by taking part in the Monarchy Manifesto; as well as being to able to pull themselves a pint with PerfectDraft, order a burger from Nanny Bill's, grab a t-shirt in the merch area or watch live sport in a dedicated super-scaled screening area. Downstairs, the vault will play host to DJs, live music and events.
As a new direct to consumer innovation hub, Monarchy enables AB InBev to test and learn their latest innovations and initiatives on-site, enabling huge leaps in supporting the hospitality sector; as well as receiving live data providing targeted insights and testing how being hyper-local can drive deeper engagement.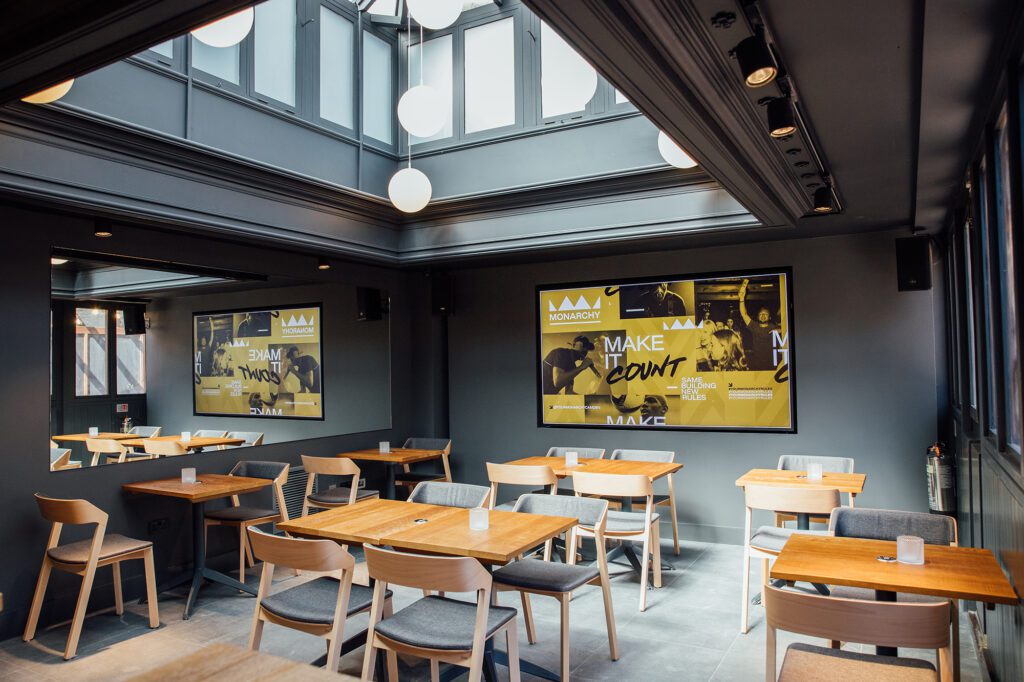 Aaron Smedley of AB InBev said "YourStudio has created a true, consumer-facing, innovation platform that explores and offers a 'beyond beer' experience. Through Monarchy we not only build a direct relationship with our consumers, but we also unite various innovation teams together from across the globe.
"We recognize the deep connection between this pub and the local community, so it's been vital to us to maintain what people loved most about The Monarch, whilst implementing what we felt only enhanced the experience. We can't wait to welcome everyone in. 
Tom Edington, Creative Director at YourStudio said, "Monarchy is designed to be genuinely welcoming to all; a dynamic venue, that is able to smartly shift its purpose and mood to host various experiences. Sustainability and innovation are at the heart of the concept, with smart tech embedded throughout to allow the destination to intuitively respond to the customers desires, it's your kingdom, your way."