AEG and Crosstree Real Estate Partners, who own and operate Icon Outlet and the Entertainment District at The O2, have announced that Marugame Udon, the Japanese handmade udon kitchen, has officially opened its second London location at The O2.
Marugame Udon, the world's largest Japenese restaurant which specialises in handmade udon, broths and flavour-filled tempura, has opened a 4,500 sq ft site containing 150 covers across two floors, within the globally recognised location. The restaurant operates via a theatrical open kitchen with its signature dishes made fresh in front of customers, offering a quick, easy and authentic service.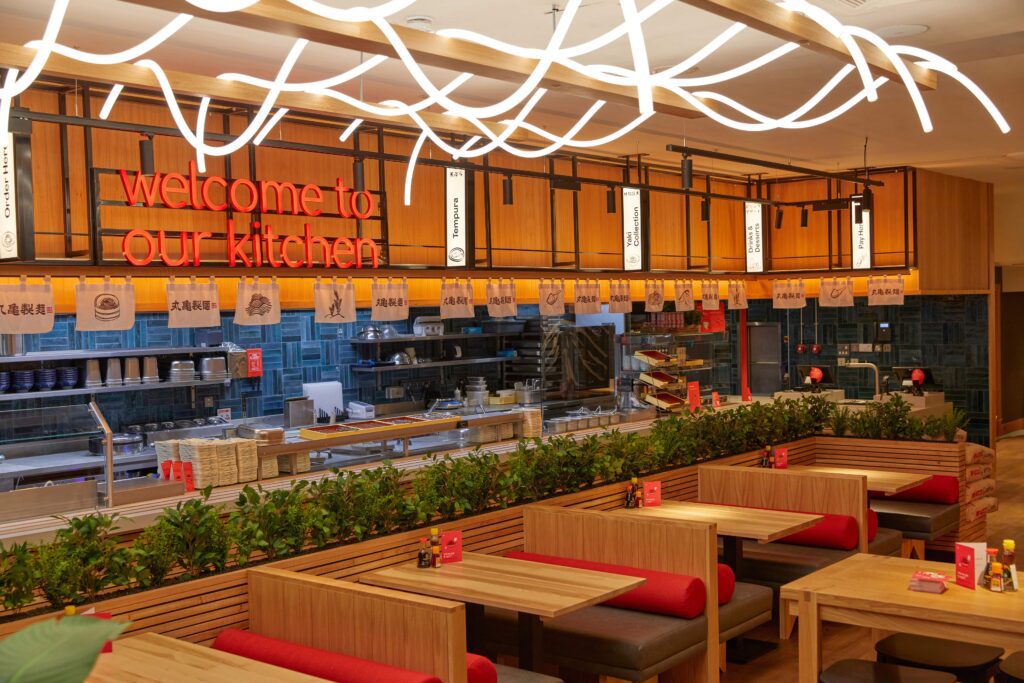 Marugame Udon will have a strong cross platform presence in the Entertainment District, with delivery and click and collect options available as well as eat-in. The lively open kitchen will also be launching a kids menu, offering more choice for consumers, mirroring the family-friendly atmosphere of The O2.
Alistair Wood, Executive VP of Real Estate and Development at AEG Europe commented: "Marugame Udon is a fantastic addition to our extensive food and beverage offering at The O2. With its fast-paced dining concept, it will fit well with the dynamics of The O2. With the arena now open again and Icon Outlet and Entertainment District all trading well, we look forward to seeing Marugame Udon flourish with us."
Keith Bird, CEO of Marugame Udon, added: "We are so excited that Marugame Udon has finally opened at The O2, and there is no doubt that this location will be a popular, well-rounded and cultural hub for our brand. Icon Outlet has been performing briliantly since reopening and the ambiance that The O2 delivers matches our concept and vision well. With The O2 being extremely well connected, it is a great opportunity for Marugame Udon to be an accessible option to consumers, not just in London, but outside of the capital too."
This news follows Icon Outlet's celebration of a record-setting August, in which the destination saw a significant 24% growth in sales, 11% rise in the average transaction value and 10% rise in footfall, alongside the recent opening of TOCA Social, the world's first interactive football and dining experience.
CWM acted for Icon Outlet.