200 Degrees Coffee gathered at its Nottingham Roast House last week, with colleagues and friends, to celebrate ten years in business.
The coffee roaster has been on quite a journey since the company began in 2012, having opened 17 coffee shops – with its latest in Derby opening next month – six barista schools, launching a home subscription and ecommerce service, significantly investing in its Roast House, reaching 200 team members and recently welcoming four new roles to its central operations team.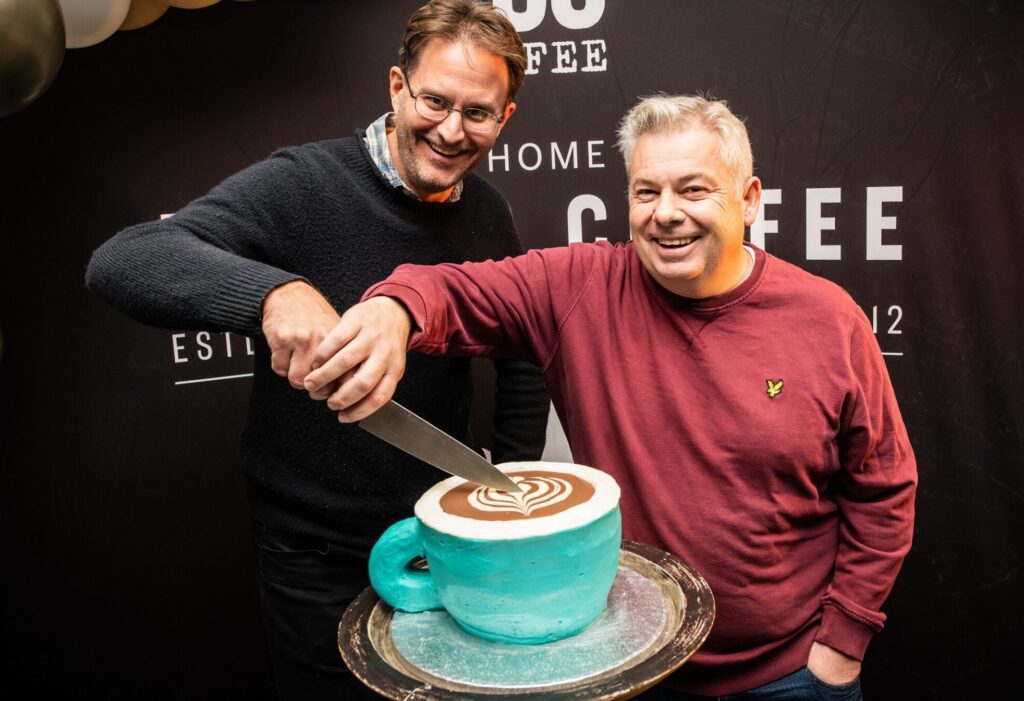 Held at the company's Roast House on Meadow Lane, the event marked and celebrated the 10-year milestone and thanked the 200 Degrees team, – some of which have been with the company since its inception – its suppliers, partners, loyal customers and others that have played a part in the coffee roaster's success.
The jam-packed evening was filled with 200 Degrees' signature coffee blends, Espresso Martinis and street food from local vendors. Guests also had the chance to try their hand at latte art and win a Sage coffee machine, as well as guided tours of its newly refurbished Roast House and a roasting experience with head roaster, Mike Steele.
To top off the evening, the company shared an exclusive preview of its new coffee packaging ahead of its launch to market in November.
Co-founders Rob Darby and Tom Vincent set up 200 Degrees from the corner of a garage before it moved on to its roastery on Meadow Lane – opposite the Notts County Football Stadium – and since its inception the company has expanded its footprint across the Midlands, North and Wales.
CEO Rob said: "200 Degrees was born out of wanting to solve a problem. Tom and I wanted to find better coffee, service and training, and after struggling to find it, we decided to become the solution.
"Ten years later and we are operating with a team of just over 200 people, which is what I am most proud of. There's huge pride in running a business with a team of this scale – from accountants and sales managers to roasters and packers in the warehouse.
"We knew we wanted to open a number of coffee shops, but it has grown beyond that and we're getting ready to open our 18th shop. There will be more to come, and we will continue to do what we're doing but better and more sustainably, to evolve the brand and create experiences for everyone to remember.
"We'd like to thank everyone that joined us to celebrate ten incredible years and we look forward to what the next ten brings for 200 Degrees!"
200 Degrees' distinctive coffee shops are in Nottingham, Leicester, Lincoln, Cannock, Birmingham, Sheffield, Liverpool, Leeds, Barnsley, Manchester, York, Cardiff and soon to be Derby.