Montréal's economic and cultural stakeholders are joining forces to help relaunch the city's downtown core. With a mandate from the City of Montréal, the project is spearheaded by the Quartier des Spectacles Partnership in collaboration with the Chamber of Commerce of Metropolitan Montréal, Tourisme Montréal, supported by the Government of Québec and Desjardins.
The project was conceived to allow Montrealers to reappropriate this public space while respecting the sanitary regulations defined by public health officials. A large structure and graphic arrow placed at the entrance of the park signals the beginning of the project. The public is then invited to discover the full length of the table and the place settings that punctuate it with eclectic collections of recycled objects. These iconic, gastronomic objects were judiciously placed to subtly foster intuitive social distancing. The redesigned space proposes 80 seats and encourages the direct support of 22 local restaurants reopening in the cafeteria of Le Central.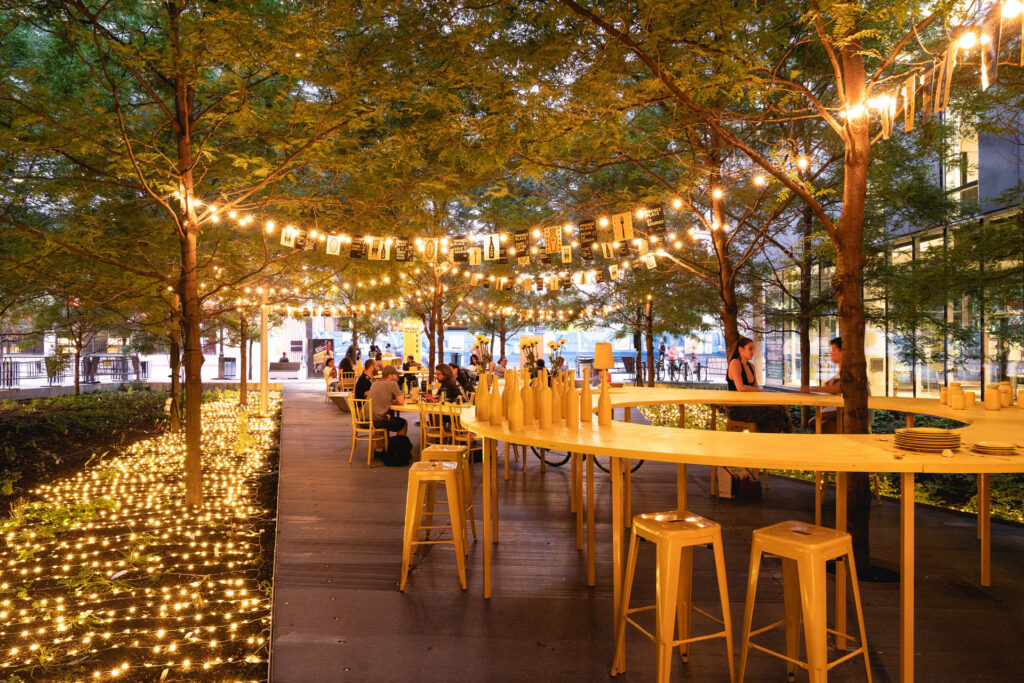 The team of ADHOC Architects presents the project Your Place at the Table! in Montreal until October 2020 on Sainte-Catherine Ouest, corner Clark. The project was designed with the collaboration of graphic designers Maude Lescarbeau and Camille Blais. The colourful installation was conceived to safely accommodate and attract citizens currently reappropriating the downtown of Montreal after several weeks of confinement due to the COVID-19 pandemic. The layout is designed to offer passers-by a space to promenade or to sit and relax while respecting current sanitation and social distancing norms.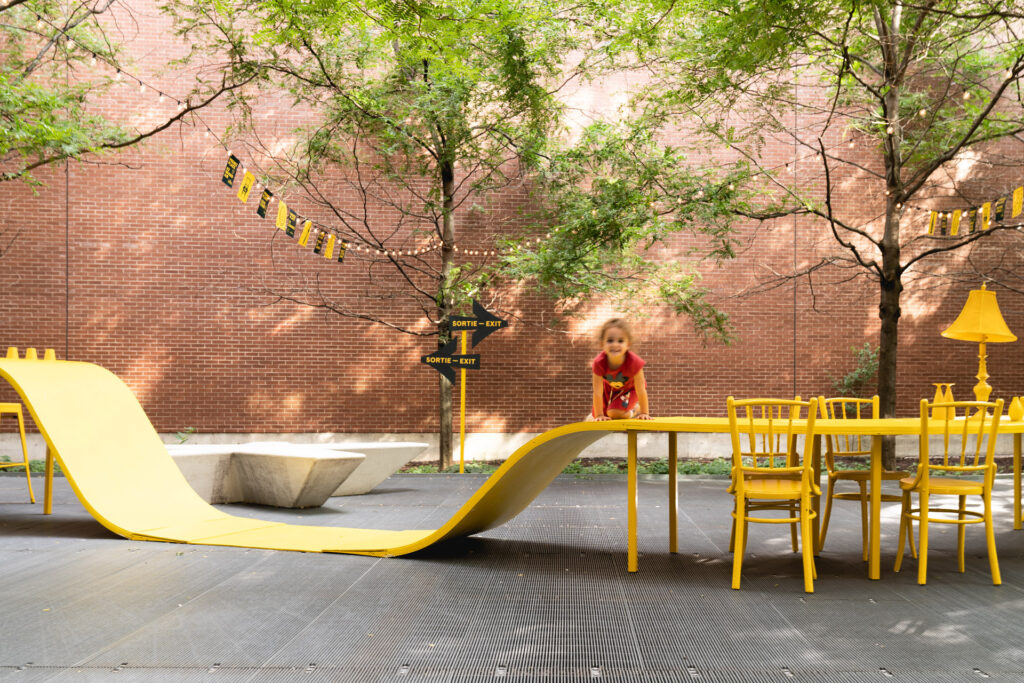 The initial mandate from the Partenariat du Quartier des Spectacles was to produce an artistic installation that would attract and stimulate traffic in the Quartier des Spectacles while maintaining social distancing measures. ADHOC architects added a social component to the site of 3260m2  by transforming it into a new urban terrasse. A 100 meter (300 feet) long "urban table" was precisely implanted between the existing furniture and trees that perforate the elevated, angular metal grille in the centre of the site. The table undulates under the canopy of the trees, leaving visitors to discover a succession of staged place settings and varied atmospheres.
Vibrant, custom graphic signage and enchanting lighting brighten up this usually quite a shady environment, creating a welcome atmosphere during the day and night. The colour yellow is thus celebrated in this tone on tone installation. This festive, joyous, and luminous colour palette attracts stares from passers-by and introduces a marked contrast with the monochromatic shades of the existing park. A truly colourful and vivacious oasis in the heart of downtown Montreal, the installation invites curiosity and discovery.