Previously a beach front Balearic structure from the 1980s, architects Baranowitz + Kronenberg have transformed W Ibiza into a social hub that connects with the guests, sets the scene and sparks the imagination, whilst incorporating the bold and playful theme characteristic of W Hotels. The practice set out to design a hotel to match the relaxed pace and cosmopolitan attitude of Santa Eulalia; the result is an idyllically escape injected with the playful charm of Ibiza.
Setting foot at the W Ibiza esplanade, a field of masts welcomes the guests with a captivating sense of arrival. One cannot escape their magnetizing energy which pulls guests inside and towards the Azul water of the Mediterranean on the horizon.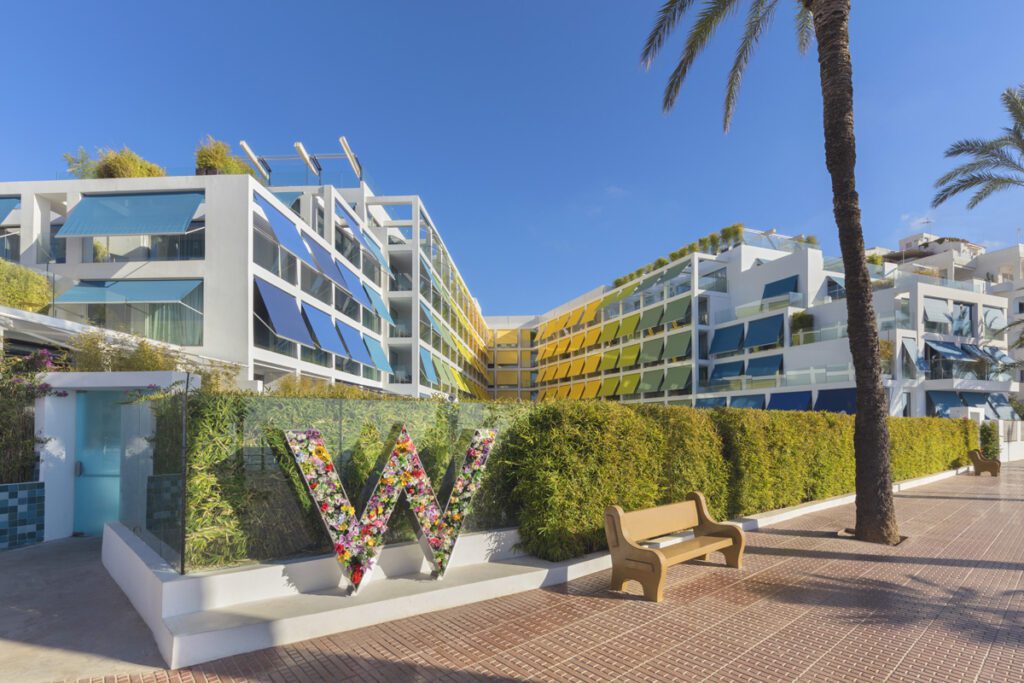 Inside, B+K has meticulously modified the existing structure to introduce a dramatic ascending section of the entire ground floor that follows from the main entrance esplanade to the outdoor pool and sea; a tour de force of ascending amphitheatre platforms that entice to connect and engage, celebrate life or just exist alone together. This spatial arrangement is set between a concrete floor and steel-wired hand-woven laced ceiling; two dominating features which define an inspiring stage for self-expression. Amongst these two dominating surfaces, colours and textures inspired by the Balearics and Ibiza's culture appear and define the different platforms to connect, relax and play.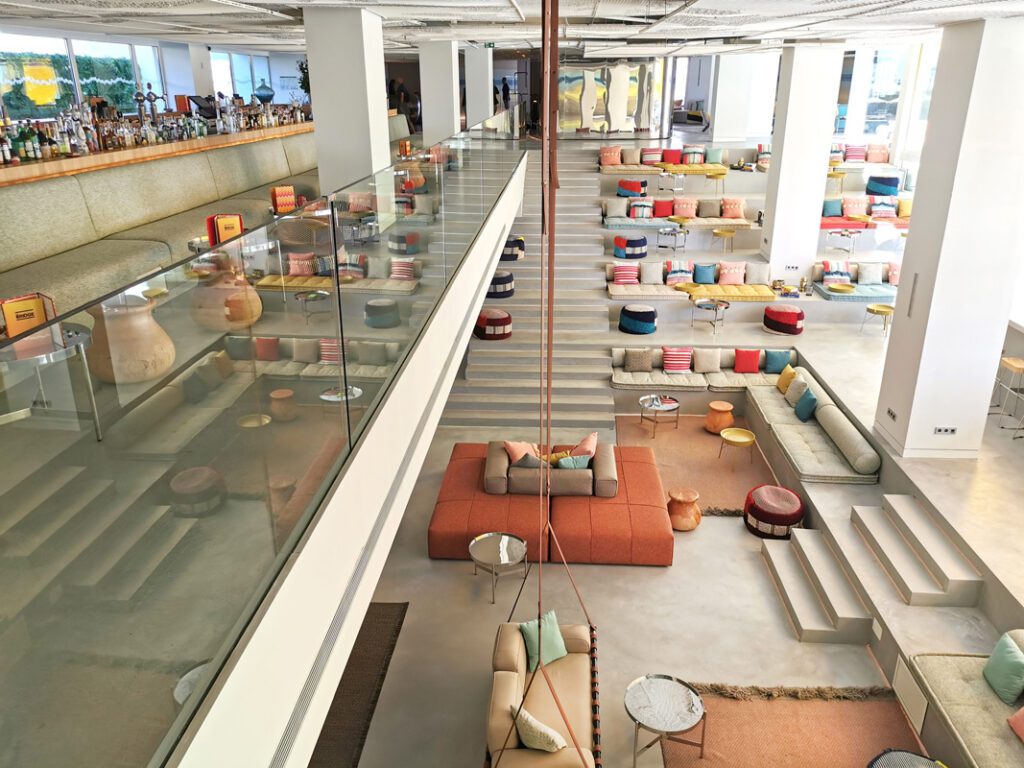 The bohemian theme which is synonymous with the island, is handled with a refined sophistication, amplified through the spatial arrangement and choice of materials and finishes. The overall impression is of a refreshing engaging simplicity expressed by a minimum of means: colour, sun and shade.
Consisting of 162 guest rooms and suites, the hotel boasts a jaw-dropping rooftop swimming pool and picturesque sunset bar boasting spectacular views of the Mediterranean Sea, as well as a 4,000 square foot spa and gym.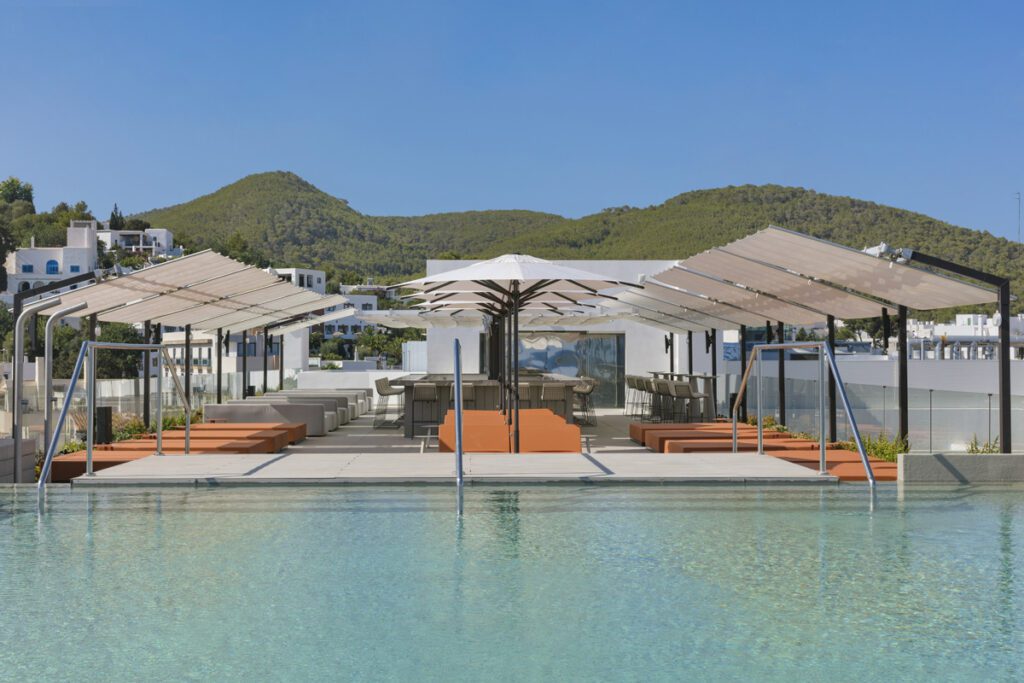 The food and beverage offerings are naturally infused as anchoring bays rather than destinations. The pool and rooftop bars, La LLama restaurant, Ve Café and Chiringuito Blue set on the white sands of the beach, make for cutting-edge individual F&B concepts that spark hearts and minds and bring people together. Each with its own character and mind-set, the venues cater for any mood from sunrise to sunrise.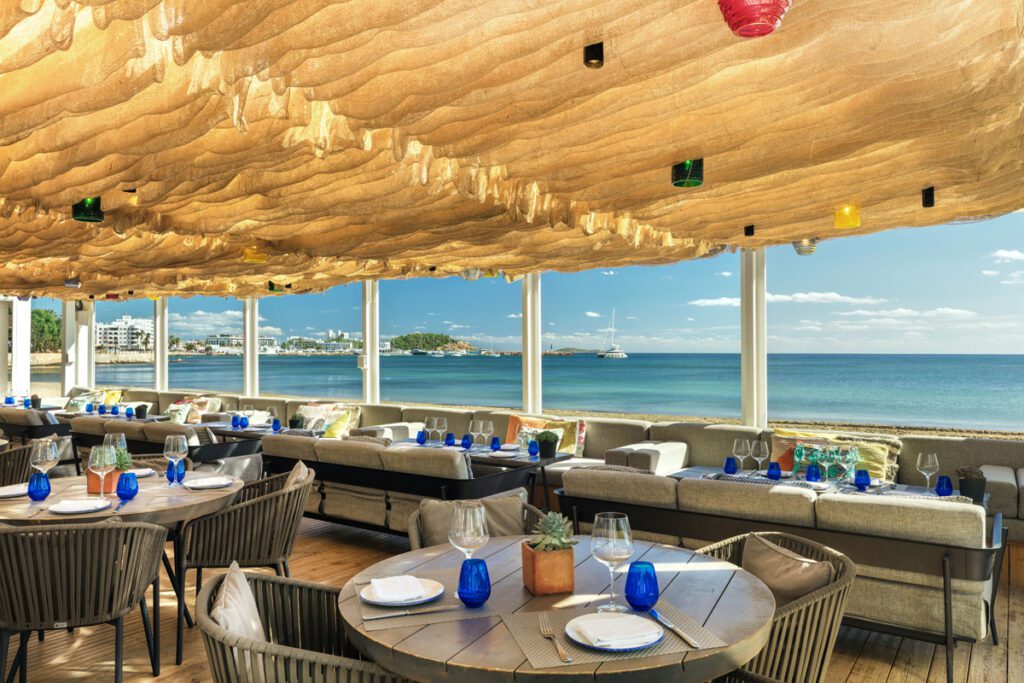 Through bold and innovative design, the practice has paid homage to the island's heritage and captured the free spirit of Ibiza whilst elevating the five-star hotel experience to a new level. The state-of-the-art furnishings, expertly curated street art and spectacular lighting, combined with the subtle references to the past makes for a truly unique experience for the first International hotel brand in Ibiza.
Alon Baranowitz and Irene Kronenberg, Co-Founders of Baranowitz + Kronenberg said: "We are delighted to have had the opportunity to work with W once again. It was important to us to capture the spirit of Ibiza within this project. 'Flower Power' lead our design strategy; laid back, colourful, simple, transparent, engaging and letting the sun shine in are notions which flow throughout the public and private spaces of the hotel."