In the traditionally lacklustre world of motorway service stations, Leeds Skelton Lakes Services is a next-generation retail and wellbeing hub underpinned by strong environmental goals. Set beside a natural lake and wildlife reserve, the site is integrated in a way that is sympathetic to its surroundings and has been designed to enhance biodiversity.
YourStudio worked closely with Sourced Market to create a game-changing food marketplace that flips service station retail and dining conventions on their heads whilst staying true to the Skelton Lakes eco-conscious vision.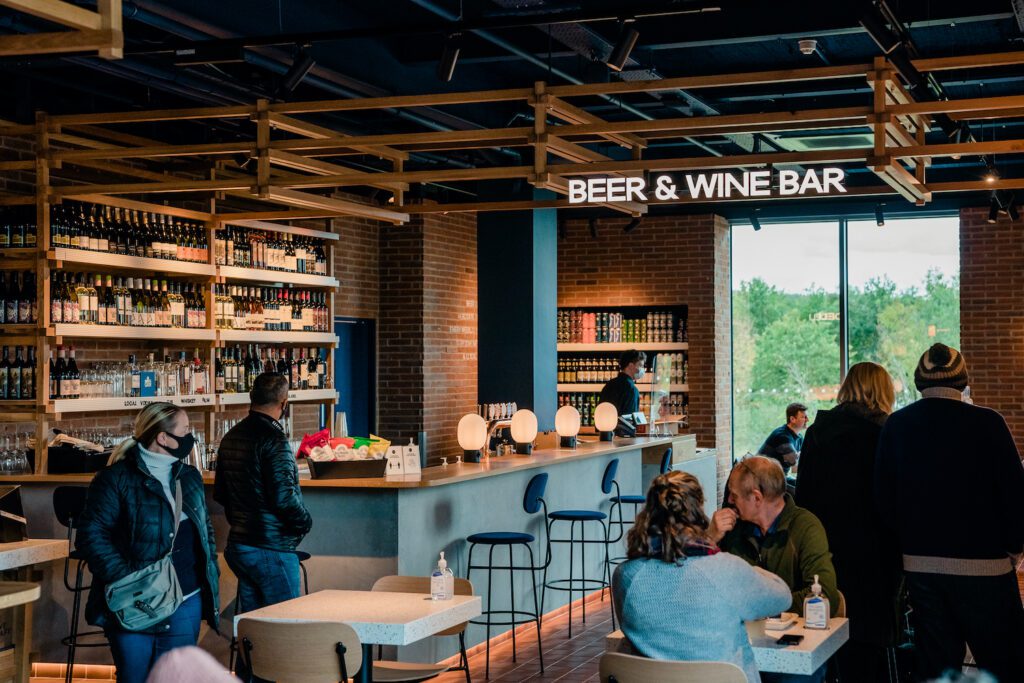 The concept title for the design was 'Power to the People'; championing local small-scale suppliers front and centre whilst giving hosts and guests freedom to explore, discover and meander through the space.
YourStudio set out with the challenge and opportunity to define what could be a fresh and appetising destination for foodies on the go. Searching for an authentic and appealing food offer, Sourced Market was designed with the ethos of the brand – aiming to give the excitement and multi-sensory stimulation that one might feel walking through the cornucopia of an open food market.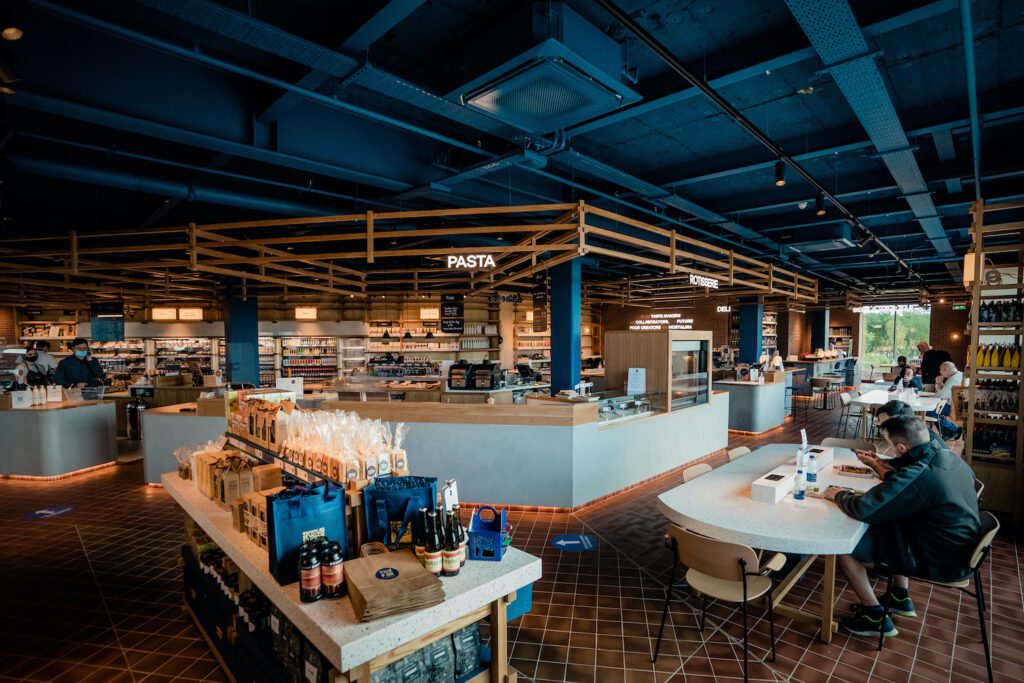 The design philosophy was to create a warm, honest and natural feeling space, one where winding down from your time on the road or doing your local shop, felt like a valuable chance to recalibrate and recharge. Natural oak wood with traditional Japanese jointing was a recurring device we used to link the customer experience from the entrance into the space, through the open produce and deli offers all the way through to the sharing tables, dining areas and wine bar at the back of the venue.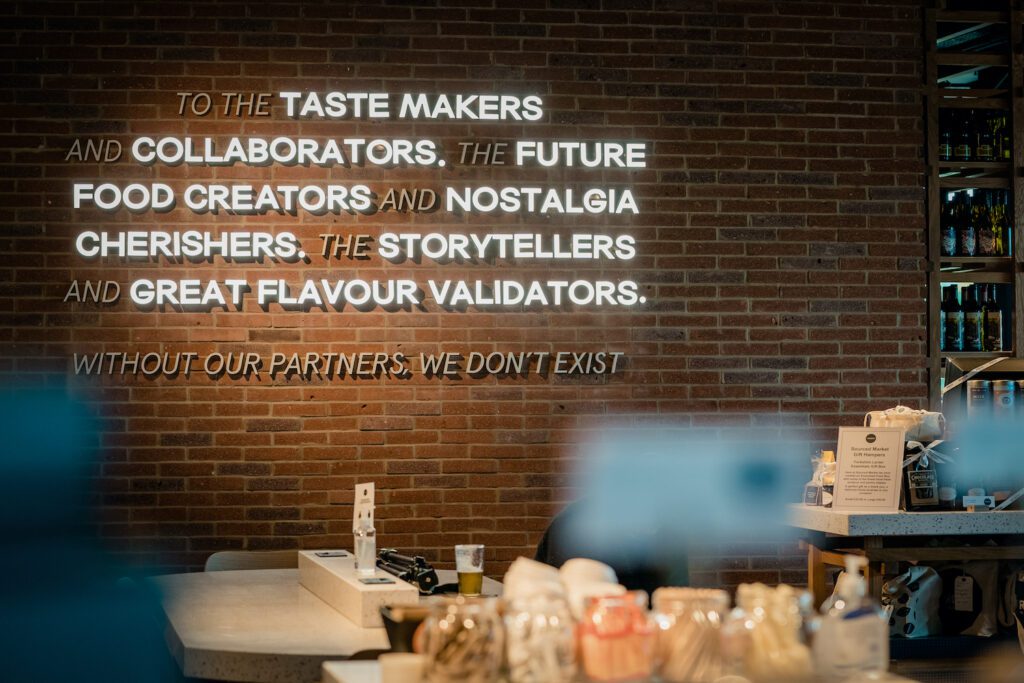 A palette of natural red clay quarry tile, punctuated brickwork is offset with the concrete counters and brand navy blue ceiling and details, creating a backdrop to the human activity and interactions within the space. Whether it's the fresh pasta bar where you're talking to the chef while they prepare your dish to the deli counter where you can grab a coffee and pastry, we aimed to create the perfect relationships and interactions between the people within and working in the space.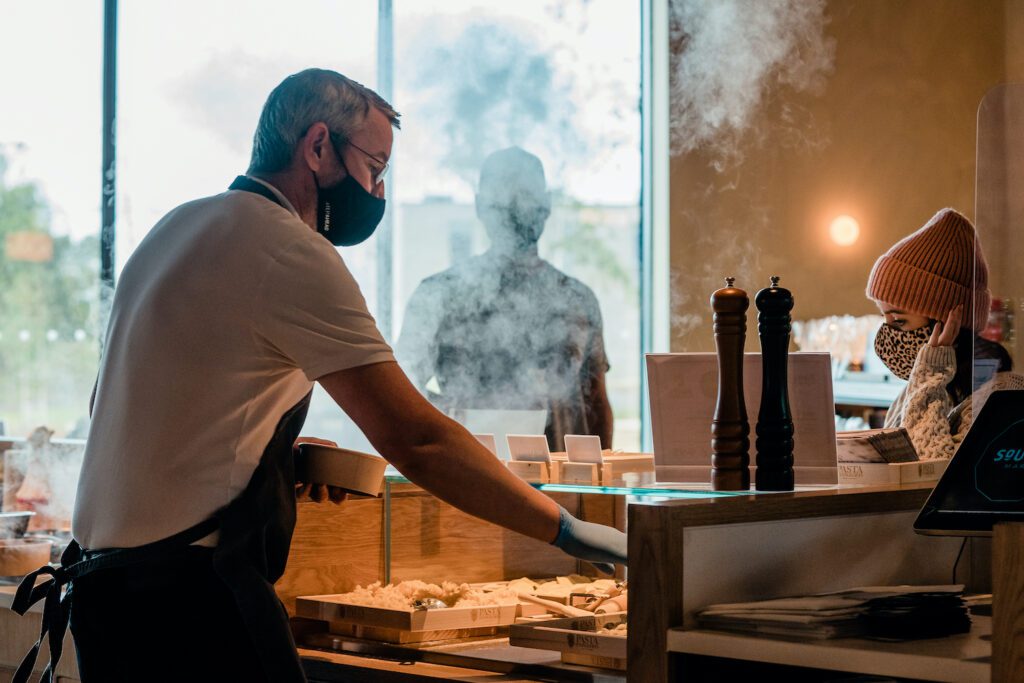 Soft lighting which changes day to night brings a glow to surfaces and enhances the simple and rhythmic architecture of the space along with elevating the local produce in its best light. Sustainability is a given in any our projects but within this scheme we worked to bring more with less, creating a flexible and adaptable framework system with designed-in adaptation. This flowed all the way through to graphic systems that need the most minimal, tactile paper prints to bring them to life. Reclaimed exposed bricks were also utilised throughout the concept whilst the terrazzo style tabletops were in fact made from locally recycled yoghurt pots.
For a source of food inspiration, a place to relax, a space to connect and feel the warmth of humankind, we hope that Sourced Market becomes a precedent setter for the next generation of motorway food offers.